Robert F. Sykes
A Heartland Profile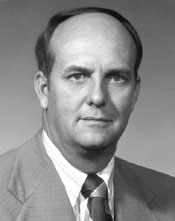 This scholarship was established to benefit students in the Civil Engineering or Engineering Management master's programs who are enrolled in graduate distance education courses through the College of Engineering at Kansas State University Global Campus.
Robert "Bob" Sykes leaves a legacy of counting others more worthy than himself, always showing need for divine guidance. The way he conducted himself should be a model for all in the civil engineering profession in putting benefits to mankind first. His obligation as an engineer is the heritage of making nature's vast resources of material and energy usable and turning the principles of science and technology to practical use.
The son of Fred Sykes, 1926 K-State graduate, and Achsa (Johnson) Sykes, also a 1926 K-State graduate, Bob Sykes was born April 23, 1929 in Ashland, Kan. In 1946, while attending Salina High School, in Salina, Kan., Bob was hired by Murray A. Wilson as a summer employee. When he began working on the surveying crew for Wilson and Co. Engineers and Architects, Bob made 70 cents an hour. He continued to be a summer intern with the company throughout high school and his years at K-State.
In 1952, Bob received his bachelor's degree in civil engineering from K-State. After serving in the U.S. Army, Bob went to work full time for Wilson and Co. in 1954.
In 1959, Bob married Lavina Jackie McCormick, a 1954 graduate, in the Danforth Chapel on K-State's campus. The couple has three children, Julia Sykes Donnelly, 1983 K-State graduate in finance, James Sykes and Jeanne Sykes Thrash.
In 1968, Bob left Kansas to become a manager of the Wilson and Co. office in Albuquerque, New Mexico. One of the New Mexico politickin engineers said, Sykes, the way you get jobs in New Mexico is to cross the palms with silver. To that, Bob answered, Murray Wilson's philosophy is if you do a good job, you get another job.
Bob was a principal player in the Albuquerque Metropolitan Arroyo Flood Control Authority's mission of flood control, having designed and built key structures as well as many smaller, but no less important, facilities. He was pre-eminent in flood control and served on the bond committee as a trusted advisor and consistent supporter. His sense of duty, attention to detail and integrity set standards that all strived to equal.
Bob became a partner in Wilson and Co. in 1974. In 1986, his partners honored him by electing him chairman of the partnership because of respect and trust; a straight arrow, humble and a true leader by example.
In 1979 and 1990, Bob was awarded recognition by the Consulting Engineers Council of New Mexico for dedication to the profession of engineering, for leadership, loyalty, dedicated service and professional spirit.
In 1992, he was honored with the Lifetime Achievement Award by the New Mexico chapter of the American Public Works Association.
In 1993, Bob was presented the Leadership Honor Award for grateful recognition of 20 years of leadership guidance with dedication to the highest standards of ethical performance and technical quality in the engineering profession by the partners, associates and employees of Wilson and Co.
After his death, the Robert F. Sykes Exceptional Performance Award for exceptional construction, administration and organizational capabilities for employees was established by Wilson and Co.
In 1993, Bob was posthumously awarded the Engineer of the Year Award by the Consulting Engineers Council of New Mexico, with the honor stating, Bob's reputation as an engineer positively enhances the image of all engineers.
On January 23, 1993, family, friends and the engineering profession lost more than a business associate and friend. A competitor of Wilson and Co, Telcon Engineering, used a quote of Bob's on their company letterhead. It read, Success is the fruit of hard work and intelligent planning.
The family established this scholarship because of the three generations of K-State students it has produced. Jackie and her children believe high values and hard work will make the country better and that higher education can solve many of the ills of indifference, poverty and non-activism.
The K-State Foundation's Heartland Profile Series honors K-State alumni and friends who have provided or are honored by an endowed scholarship. The Heartland Profile Series provides a link between the student recipients and this prestigious group.